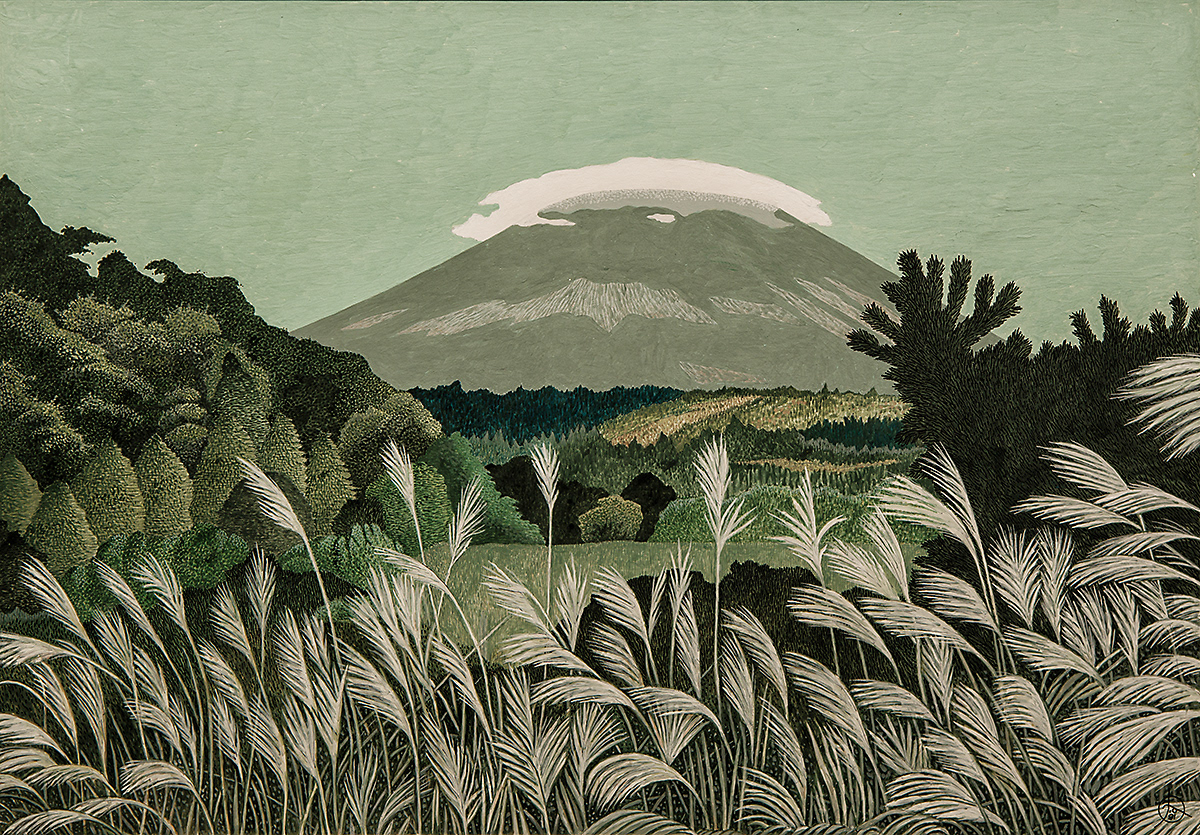 Mother Tongue Publishing
's series on
The Unheralded Artists of BC
,
is a brave new series of beautifully designed and well-researched books,
illustrating and illuminating the lives and art of previously undocumented
important artists of the 1900s-1960s.
I am honoured to have been the principal photographer for the eighth
book in The Unheralded Artists of BC series,
The Life and Art of Jack Akroyd by Peter Busby.
Jack Akroyd's paintings and drawings are that of a highly skilled artist
who documented his surroundings with meticulous detail and a personal,
and humorous touch.
Private Collections,
#1 Mnt. Fuji, 1991, 16" X 23"
#2 The Big Picture, 1978, 4' X 7'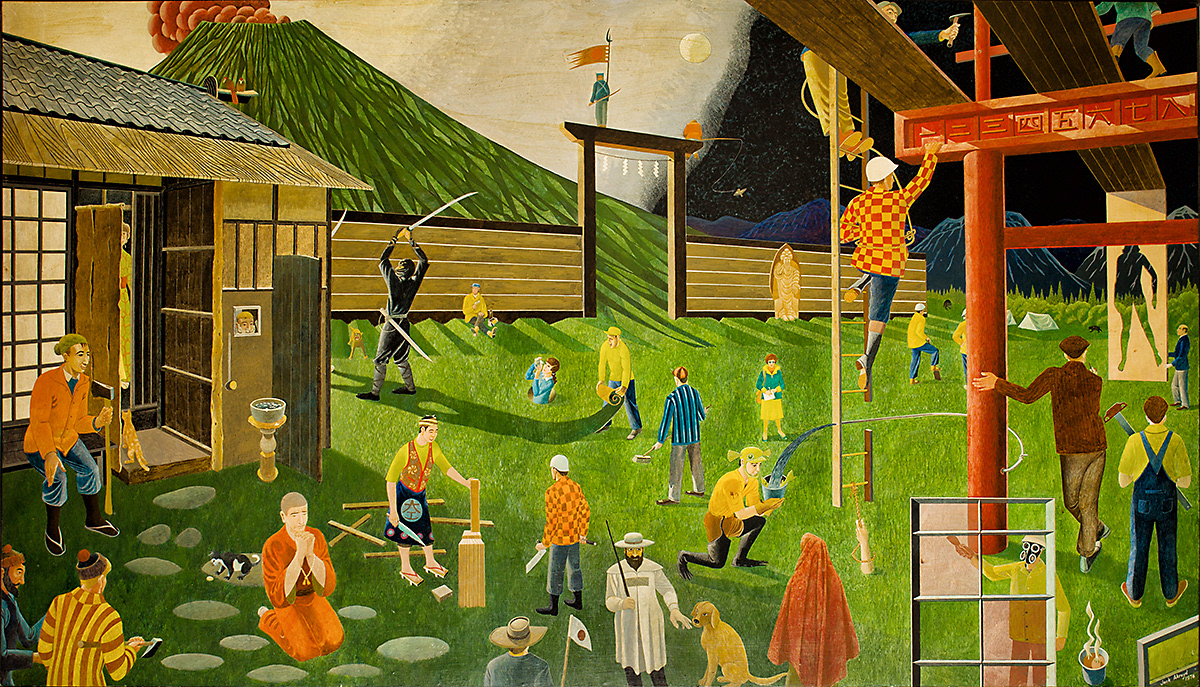 Introduction by Paul Wolf:
"Jack Akroyd (1921-1996) was a member of a group of artists living in Vancouver in the early 60s which included sculptors Paul Huba, Elek Imredy and David Marshall, photographer Jack Dale and painters George Fertig and Frank Molnar. Akroyd's characteristic blend of figurative detail and surreal composition found admirers in Canada as well as Japan, where he capped his career with three sell-out shows in 1987.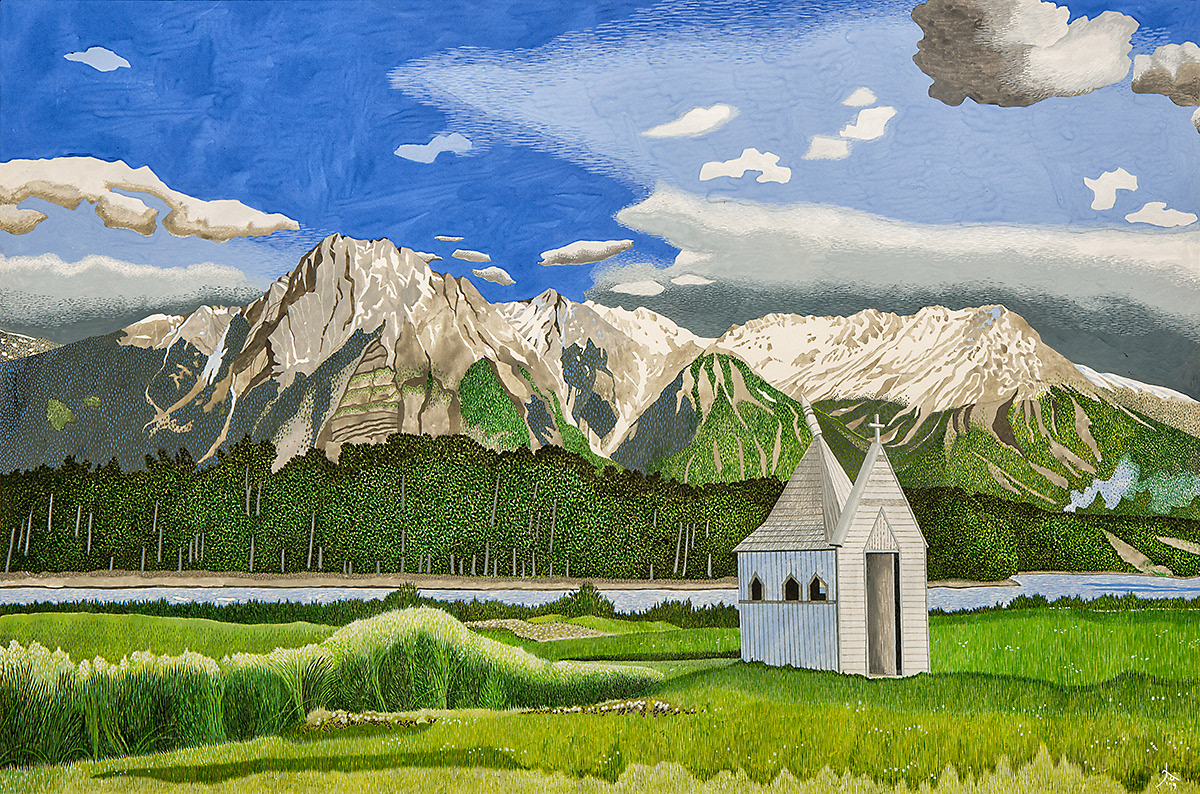 Born in Halifax, Yorkshire, he became an engineering apprentice, followed by five years' war service in the RAF. He immigrated to Canada in 1948 and spent four years at the Ontario College of Art, studying under Carl Schaefer and Jock Macdonald, alongside fellow students Graham Coughtry, Shizuye Takashima and William Kurelek. After graduating in 1953, he moved west, living in Nanaimo and then Kitsilano's Yew Street artist enclave. He pursued his art while supporting himself first as a draftsman, then by fixing kilns for local schools and potters. Later he was an assistant to sculptors George Norris and Elek Imredy.
Private Collections
#3 Spirit House, 1979, 19"X29"
#4 Untitled (abandoned shed – orchard), 1972, 14¾"  X  121/2"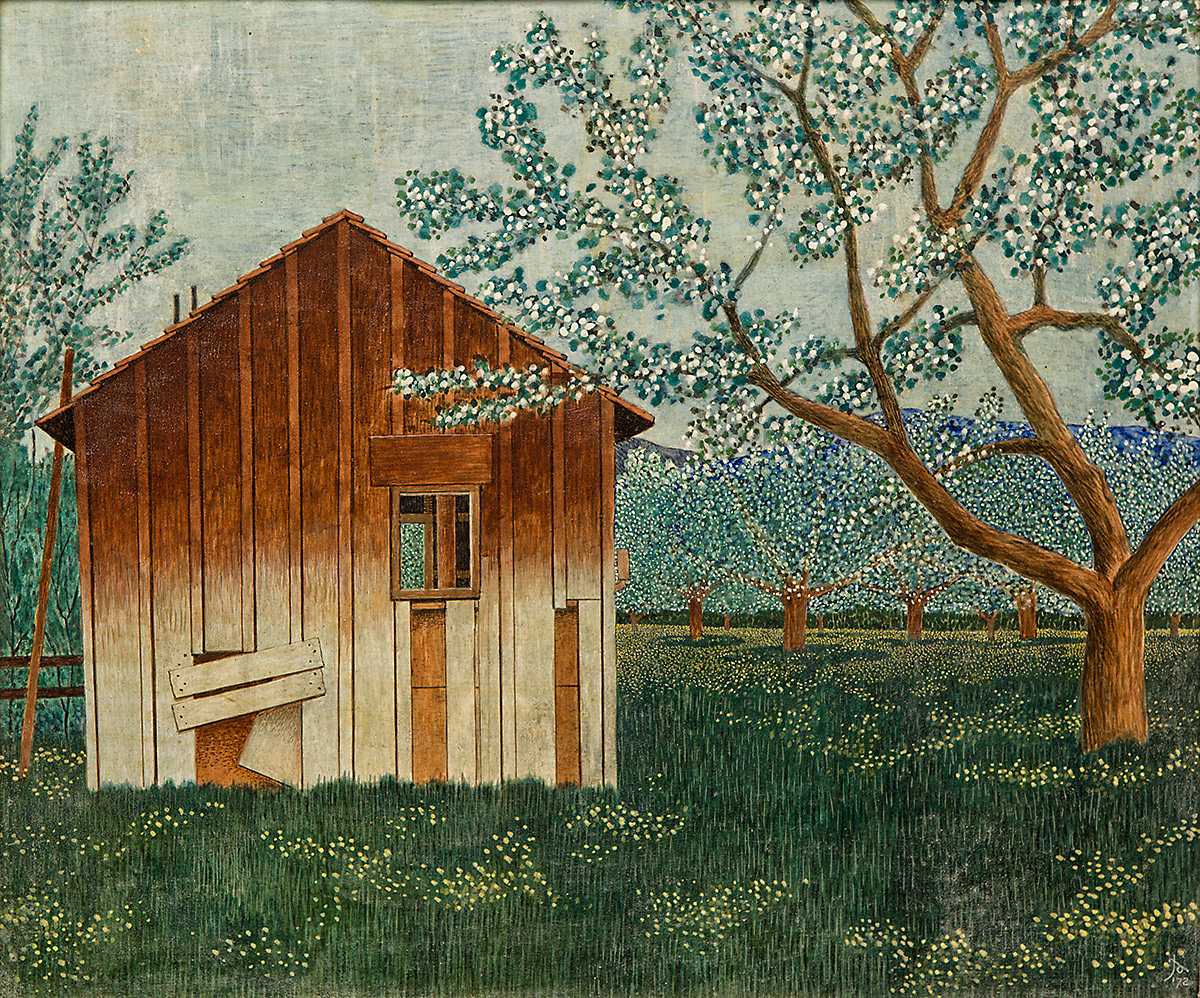 In 1960 Jack made the first of two long journeys through Japan, which proved life-changing. Japan profoundly affected his perspective and iconography, and he developed his signature style, a visual diary, combining images of his daily life and his inner world in witty juxtaposition. He had three sell-out exhibitions in Japan. Vancouver Art Gallery and Burnaby Art Gallery also had solo exhibitions of his work. In 1996, age 75, he died on a Vancouver bus.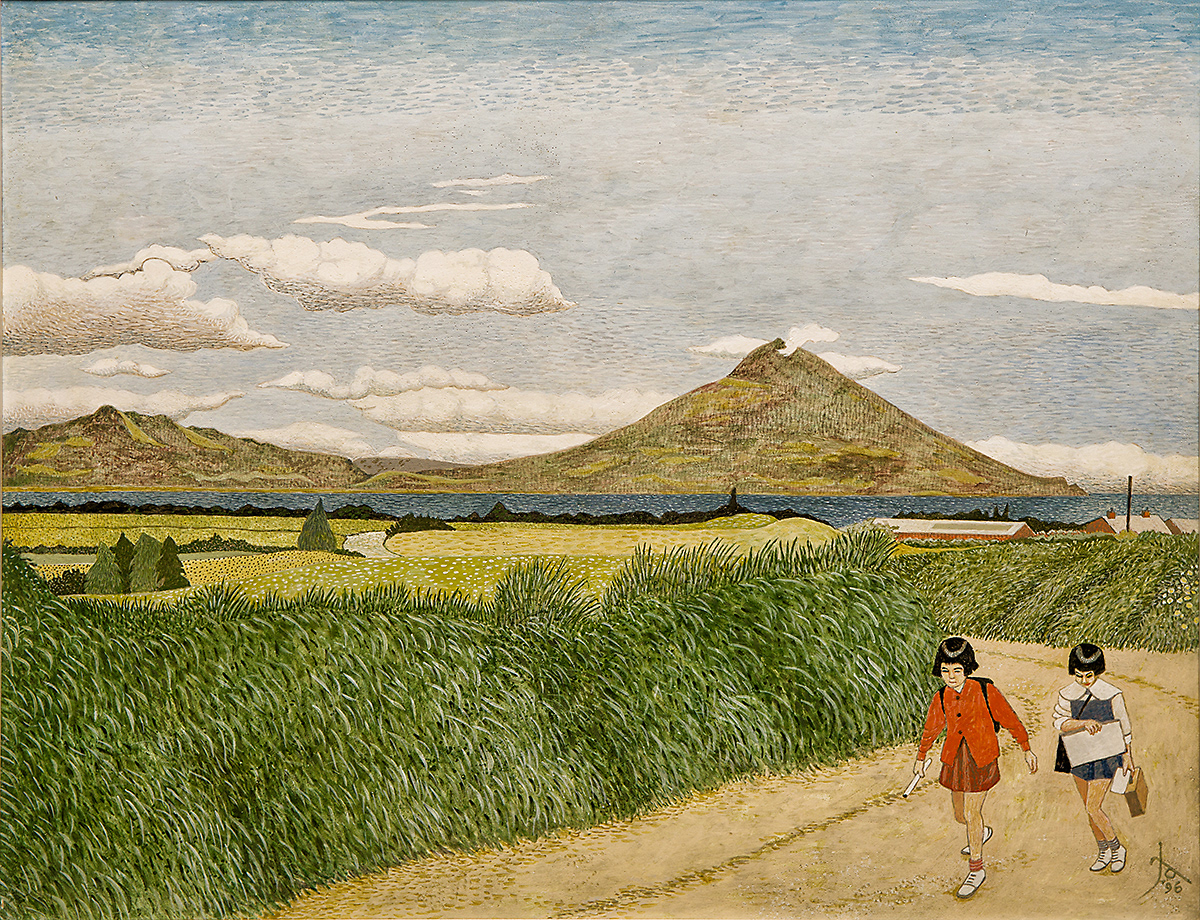 Like Jack Akroyd before him, Peter Busby was born in West Yorkshire, lived for many years in the south of England and settled in Vancouver. He studied English at Sheffield and Leeds Universities before moving to London, where he taught English for ten years before going freelance, co-writing two thrillers and the tv serial Thin Air. Between jobs as an editor, story editor and ghost writer, he wrote the children's book First to Fly, which won the 2003 James Madison Award for American non-fiction, an unusual feat for a Canadian author."
Private Collections
#5 untitled, 1996, 15.5" X 19.5"
#6 untitled Artist on Beach, 1979, 19" X 29"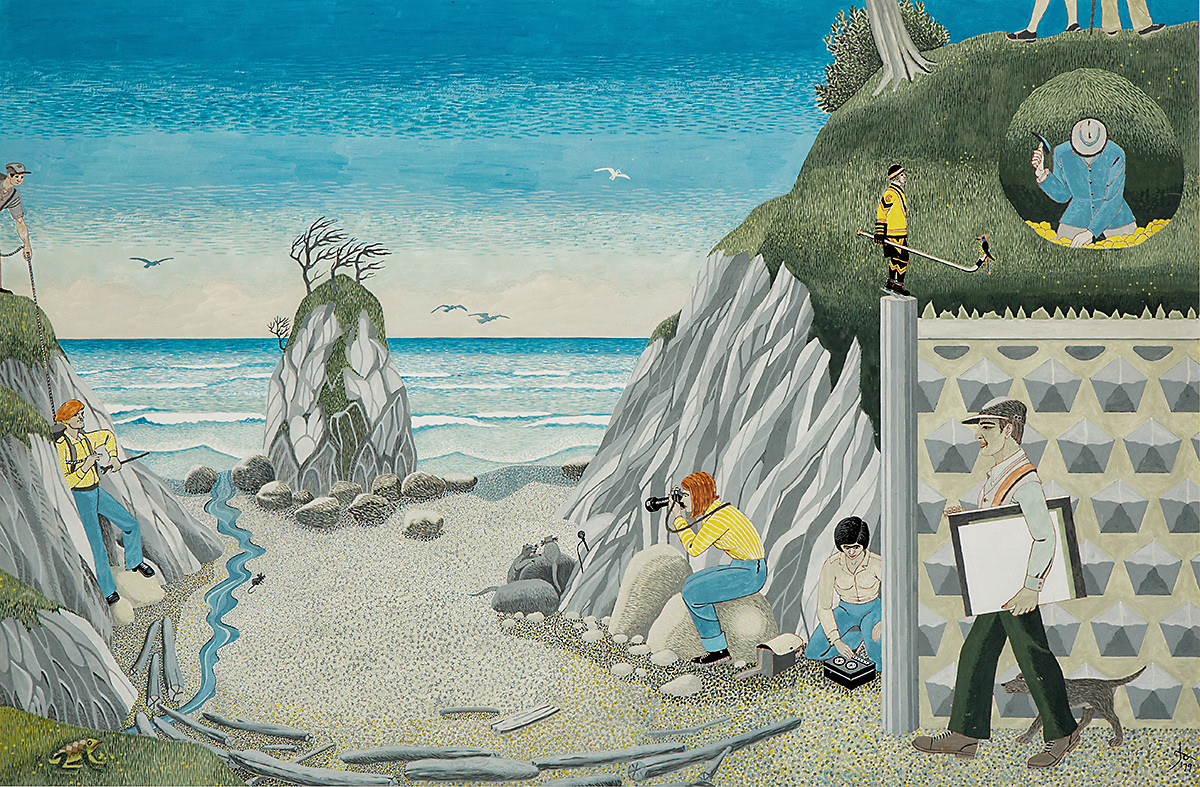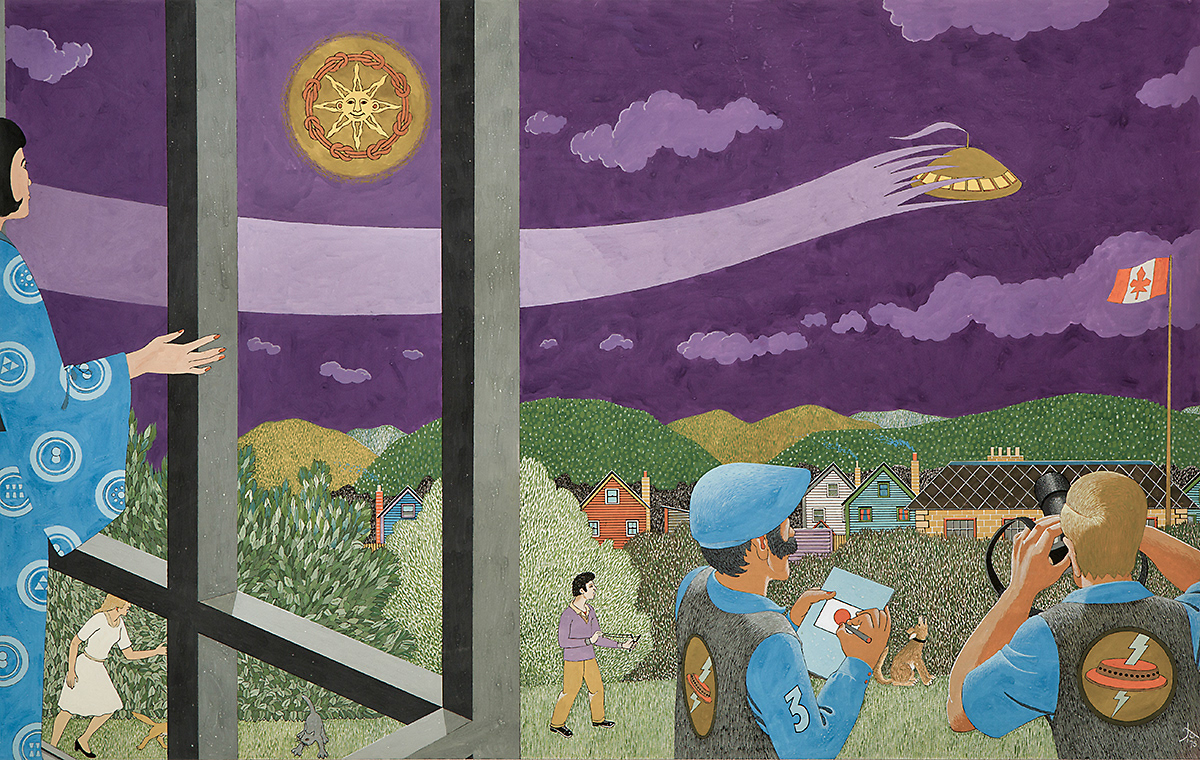 "A contemporary of Vancouver artists Shadbolt and Smith, Akroyd was deeply influenced by the culture of Japan, a country that embraced his artistic vision and inspired the idiosyncratic vocabulary of images from his travels and daily life which he called "Visual Diaries." The Burnaby Art Gallery has long championed Akroyd's art, and is delighted that his work is finally getting its due."
Ellen van Eijnsbergen, Director/Curator, Burnaby Art Gallery
Private Collections
#7 We believe in Flying Saucers when the sky turns purple; 1975, 22.25" X 35.5"
#8 West Coast Forest; 1983, 14"X18"